The means of transportation to Mount Athos.

One of the most commonly used mean of transportation is the boat.
We will certainly use to go into Mount starting from Ouranoupolis or Ierrisos.
The are various kinds of boats:
> The passenger - ferries (speedboats and ferries) performing the standards itineraries of Ouranoupoli - Daphne - Kafsokalyvia with stopovers to some monasteries that are near the sea.
Here the ticket cost depends on how far you will go.
For example the ticket Ouranoupoli - Daphne is about 8 €.
> The passenger boat on the route to Ieriso - Ibiron - Morfonou (Great Lavra) in the upper part of athos.
> High-speed taxi boats, small boats that you can rent.
 In this case you need to make a telephone booking and tell where you want the boat to come and pick you up.

The charge of course here is "overwhelming" depending on how long route you choose and how many people will make the same journey.



The routes to Daphne and the intermediate stops at monasteries, are the following:

DEPARTURE
OURANOUPOLI

ARRIVAL
DAPHNE

TYPE
OF SHIP

DEPARTURE
DAPHNE

ARRIVAL
OURANOUPOLI

TYPE
OF SHIP

08:45

09:25

SPEEDBOAT

09:35

10:15

SPEEDBOAT

09:45

11:45

FERRY

12:00

12:50

SPEEDBOAT

10:40

11:30

SPEEDBOAT

12:10

14:10

FERRY
INTERMEDIATE STATIONS:
GIOVANTSA-ZOGRAFOU-KONSTAMONITOU-DOCHEARIOU-XENOFONTOS-PANTELEIMONOS
The most common and economical route is the ferry "Axion Esti" leaving Ouranoupoli at 9:45 arriving at Daphne at 11:30 to 12:00.

The routes to Ouranoupoli - Daphne (direct) and Daphne - Kafsokalyvia is by the boat "Agia Anna" as follows:
OUR/POLI
- DAPHNE

DAPHNE -
KAFS/GIA

KAFS/GIA
- DAPHNE

DAPHNE -
OUR/POLI

ARRIVAL
OUR/POLI

BUS TO
TO THESSALONIKI

MON-FRID

06:30

08:05
12:45

09:35
14:20

15:45

17:10

18:15

SATURDAY

07:00

08:35*
12:15*

10:00*
13:15*

14:45

16:15

16:15

SUNDAY

10:30

12:15*

13:15*

14:30

16:15

16:15

* On the weekend route stops at the Holy Skete of St. Anna.
The intermediate stations are: Simonopetra, Grigoriou, Dionisiou, Agiou Pavlou, Nea Skiti, Agia Anna, Katounakia, Kafsokalyvia.
There is also a high-speed boat called "Little Saint Anna" (more expensive than the large ferry and is necessary to make areservation), with the following routes:
Ouranoupoli-Daphne

Daphne
Kafs/gia

Kafs/gia
- Daphne

Daphne
Ouranoupoli

Arrival
Ouranoupoli

BUS TO
TO THESSALONIKI

MON-FRID

08:00
11:45

08:45
12:35

09:30
13:20

11:00
14:45

11:40
15:30

13:00
16:15

SATURDAY

08:00
11:45

08:45
12:35

09:30
13:20

11:00
14:15

11:40
15:00

13:00
16:15

SUNDAY

08:30
11:00

09:10*
11:45

09:30*
12:30

10:15
13:15

10:50
14:00

13:00
14:15
*On the weekend route stops at the Holy Skete of St. Anna.

The most logical and economic choice for someone who wants to visit monasteries or skeetes located at the lower part of athos after the port of Dafni is:
Take the "Axion Esti" from Ouranoupolis at 9:45 and change boat in Daphne, entering the "St. Anna" that reruns from Kafsokalyvia at 12:45.

Untill the boat arrives there is a short period of time that can be exploited for food or shopping from the local shops of Dafni.



Now as for the boat transfer to the monasteries of the upper side.
Here things are more difficult.
There is only one route every day with a smaller boat (speedboat), which is new and holds over 100 people (but allowed one hand luggage up to 10 kg).
Also the weather is usually more "fierce" than the lower side, so the route may not be completed until its final stop (Morfonou) but, depending on the air until Ibiron or Vatopedi.

DEPARTURE
Ierissos

ARRIVAL
Morfonou

TYPE
OF SHIP

ΑDEPARTURE
Morfonou

ARRIVAL
Ierissos

TYPE
OF SHIP

08:35

10:30

SPEEDBOAT

10:40

13:00

SPEEDBOAT

INTERMEDIATE STATIONS: Chiliandariou-ESPHIGMENOU-Vatopedi-PANTOKRATOROS-Stavronikita-IVIRON-Filotheou-KARAKALOU-Morfonou.
Mount Athos Lines:
http://www.agioreitikes-grammes.com/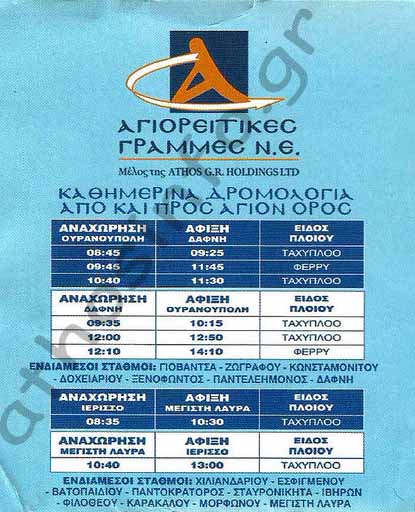 Phone for reservations: +302377021041, 21148, 71149.

Below are the mobile phones you can use for direct communication with the captain, in case of bad weather to know whether the ship will arrive to Arsanas (port) and if it will goe to the destination that we want.

Axion Esti +306974060742
Agios Panteleimon +306974060748
Sophia +306974060745

Panagia (Ierissos-Lavra) 6974060747

Mikroathos:
http://www.microathos.gr/index.html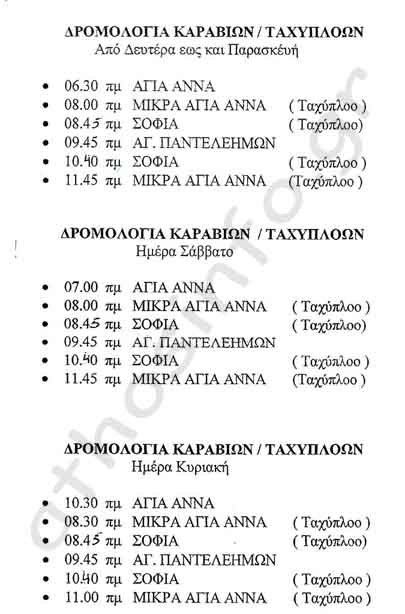 Phone for reservations: 2377071400

Mobile phones of ships:

Agia Anna (Large ferry Ouranoupoli -Dafni - Kafsokalyvia) +306944982531, +306947819885
Little Saint Anna (speedboat) +306995105105

Taxi boats
Portaitissa 6974060744
Arxagellos 6979110020 2377023603.


Another mean of transportation we can use are the local vehicles.
On Mount Athos most roads are gravel.
The car entrance to Mount Athos requires special permission and relates mainly to professionals (constractors, wood carring trucks, e.t.c.)  .
As for the pilgrims, the vehicles they can use are:
> The large buses operating on the route Daphne - Karyes and vice versa (The cost is about 3 €).
Here the routes are in response to the large boat.
For example when you get in Daphne we should embark immediately and head for the bus, that stops near the boat because after a while it will leave for Karyes and probably if we are late we will not find a free seat.

> Minibus - taxis that we can rent, and they travel from the capital Karies and from the monasteries or between monasteries.
Drivers are usually monks, since the vihicles belong to  the monasteries of Athos.
The price of the route is determined, and depends on the distance and how many people are going to the same destination.So we must make the arrangement with the driver and find other pilgrims that go to the same monastery.Also make an arrangement for the next days return, if you plan to return from the same route.

There are also auxiliary vehicles used by monasteries on the route from Arsanas (port) to their gate.

These can only carry the luggage or also the passengers (eg a minibus in St. Paul monastery ) and is free.



The last and most traditional way that we can travel in mount athos is our feet!
Inside athos there are many paths linking monasteries and skeetes.
In this case we need to careful study the route that we will  follow and the trails difficulty.
For example a relatively easy path is the one that connects the monasteries Docheiariou and Xenophontos.
The average walking in this route is 30 minutes.
Of course one can walk more slowly, make stops and the route time at the end becomes 1 hour.
An example of a difficult path is the St. Anna – Mount Athos top, where you have to leave very early in the morning to be to the top at noon and manage to descend again by afternoon.
We must always be alert not get lost, since there are many branches along the paths, but in many cases there are signs helping us to follow the correct way.
In some places there are no roads for cars, such as the so-called "desert" that starts from New Skete until the Great Lavra.
There the only alternative there, for someone who has a serious problem that can't walk is renting a mule, that some monasteries and skeetes use mainly for freight.
Also in our choice of a path we must take seriously consider the current weather.
During the summer, especially August is hard to follow a long open path, due to heat and we will be exposed to strong sunlight for a long time.
Instead, we can choose a path that is covered with trees (e.g. Pantocrator - Stavronikita) or arrange to leave early in the morning and reach our next destination before the strong sun comes out.